$

39.00
DARK VANILLA & SANDALWOOD GILDED MUSE candle by Capri Blue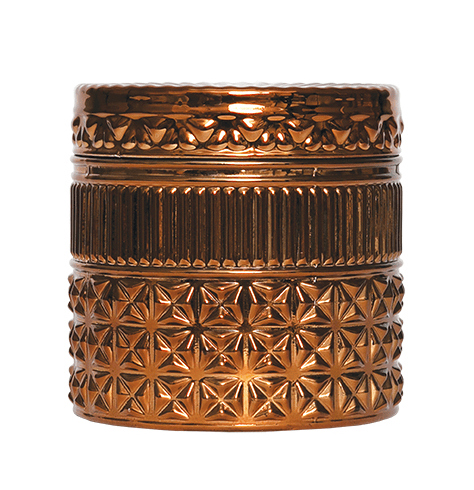 PERFECT 'GIFT TO SELF' !
-----
DARK VANILLA & SANDALWOOD GILDED MUSE candle
Capri Blue candle in beautiful bronze / copper colored jar
Once your candle is finished, the candle jar is perfect for repurposing afterwards - plant a succulent in it or use it for trinkets!
scent: vanilla, peach, magnolia, and sandalwood
APPROX BURN TIME: 44 hours
SIZE: 11 oz 4.25 x 4.25
----
If you're local to SoCal & want to pick up your order at our studio boutique at the Rancho Santa Fe Farmer's Market on Sundays, email us immediately upon placing order, with your order#, and we will package your item for pickup on the next Sunday we are at the market, and extend store credit for shipping charges you were charged online.
----
SHIPPING:
These candles are heavy & the jars are delicate. We ship them with lots of love & care & bubble wrap with FedEx 3 day shipping (& tracking) so that they don't spend weeks in the heat! But we only charge less than 1/2 the actual shipping & handling costs and we pay the rest for you! All online stores are not the same! We don't cut any corners to increase profits & we focus on delivering the best quality & service to YOU!
----
What it means to Shop Small with 15th Street Photography & Boutique:
♥ You Have Access to Unique One-of-a-Kind Products & Services
Created by and/or Curated by Artists
♥ You Receive Exceptional & Personalized Products & Services
by Experts Passionate About What They Create
♥ Your Dollars Filter Through Your Local Economy so Your Community Thrives
♥ Whenever Possible, All Products are MADE IN USA
♥ You are Unique - Your Commissioned Artwork & Giftshop purchases reflect that
♥ You are Valued - We Remain 'small' to Keep the Focus on Our SERVICE to YOU .
----
At this time, we only ship within the contiguous United States.
Most items may be shipped via Fedex Ground service. Approx arrival dates are within 5-10 full business days depending on stock & holiday shipping delays. Delivery will occur Monday-Friday, excluding federal holidays within the United States. If your item is out of stock we will email you with information on expected ship dates.